Hingis to face clijsters and williams sisters in world team tennis' 35th season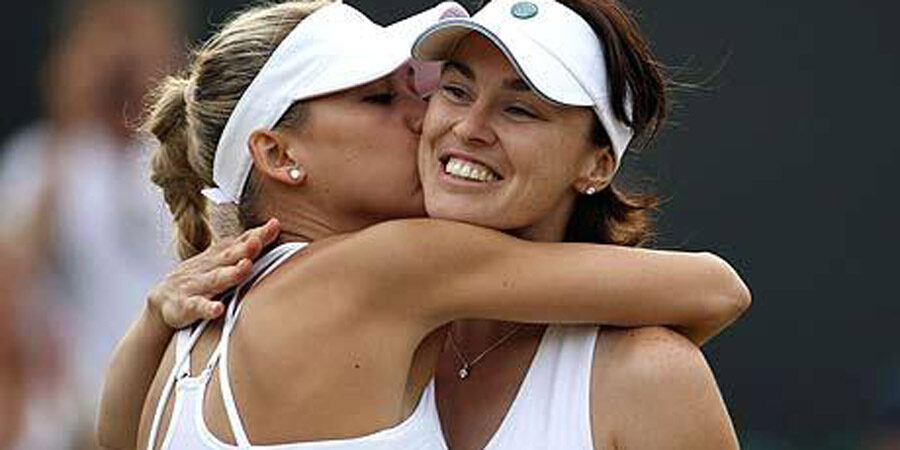 NEW YORK, N.Y. (March 11, 2010) – The 2010 World TeamTennis Pro League season will be highlighted by head-to-head matches between five former and current world No. 1 players – Martina Hingis, Venus Williams, Kim Clijsters, Lindsay Davenport and current world No. 1 Serena Williams – during the 3-week season, which starts July 5.  League officials released the 73-match season schedule for the 10 WTT franchises today.
Hingis, who plays for the New York Buzz, is scheduled to take on the Washington Kastles' Serena Williams and Venus Williams, and Clijsters, who is a member of the New York Sportimes.  Venus Williams and the St. Louis Aces' Lindsay Davenport will face off in St. Louis.
Each of the 10 teams will play 14 matches – seven home, seven away.  Eastern Conference teams are the 2009 WTT Champions Washington Kastles, Boston Lobsters, New York Buzz, New York Sportimes and Philadelphia Freedoms.  Western Conference teams are Newport Beach Breakers, Sacramento Capitals, St. Louis Aces, Springfield Lasers and Kansas City Explorers.  This summer marks the 35th season of the coed League which was co-founded in the 1970s by Billie Jean King.
The Marquee Player lineup for 2010 includes some of the biggest names in tennis, including Serena Williams (Washington Kastles), Venus Williams (Washington Kastles), Andy Roddick (Philadelphia Freedoms), Kim Clijsters (New York Sportimes), John McEnroe (New York Sportimes), Martina Hingis (New York Buzz), Lindsay Davenport (St. Louis Aces), Anna Kournikova (St. Louis Aces), Maria Sharapova (Newport Beach Breakers) and James Blake (Boston Lobsters).
Hingis is returning to WTT action for the first time since 2006 and will face some of the WTA Tour's biggest current stars this July.  Hingis, who is playing the entire season for the Albany-based New York Buzz, will try to even her head-to-head record with Serena Williams during a special road match at the Glens Falls Civic Center in Glens Falls, N.Y., on July 9.   Hingis will play the remaining six home matches at the team's regular home venue, SEFCU Arena at the University at Albany (July 5, 6, 13, 14, 16, 20).  Hingis, a former world No. 1 in both singles and doubles, hits the road for seven matches including visits to Washington DC (July 7 vs. Venus Williams, July 12), Boston (July 11), Springfield (July 17), New York Sportimes (July 19 vs. Kim Clijsters), Philadelphia (July 21), and St. Louis (July 22).
Venus Williams, who was traded from the Philadelphia Freedoms to the Washington Kastles prior to last month's Marquee Player Draft, will play three matches for the Kastles.  She starts her 7th WTT season at home for the Kastles on July 7 before returning to Philadelphia on July 8 to take on her former team.  Venus finishes her season in St. Louis on July 10 when she takes on the Aces and 3-time Grand Slam champion Lindsay Davenport.
Serena Williams teams up with her Kastles squad for four matches – one at home and three on the road.  The first is a highly anticipated showdown against Martina Hingis and the New York Buzz in Glens Falls, N.Y.  Serena leads their career head-to-head series 7-6.  Serena plays in Philadelphia on July 13, Washington DC on July 14 and in New York City against the New York Sportimes on July 15.
WTT veteran Lindsay Davenport returns for her 9th season and her first with the Aces since 2001.  Davenport will play 10 matches including six at Dwight Davis Tennis Center in St. Louis (July 6, 7, 9, 10, 13, 17).  Davenport is scheduled to battle Venus Williams on July 10 when the Aces host the Washington Kastles.  Davenport opens up the season on the road on July 5 in Springfield, followed by away matches in Sacramento on July 14, Newport Beach on July 15 and Kansas City on July 18.
Kournikova returns for her eighth WTT season and her third with the St. Louis Aces.  The former world no. 1 doubles star will play four matches for the Aces.  Kournikova opens the season at home when she will team with Lindsay Davenport.  Kournikova plays road matches on July 19 in Boston, July 20 in Philadelphia and July 21 in Washington, DC.
John McEnroe marks his 10th year in the WTT Pro League with five matches, including two at home at Sportimes' Stadium at Randall's Island on July 12 and July 19.  The July 19 match will be an all-star showcase as McEnroe will be joined by new Sportimes' teammate and 2009 US Open Champion Kim Clijsters to take on the Hingis-led New York Buzz.  McEnroe also plays in Albany against the Buzz on July 13, July 20 in Washington DC, and July 22 in Newport Beach.  This is second WTT season for Clijsters who was acquired by the Sportimes in an off-season trade with the St. Louis Aces.
2010 top draft pick Andy Roddick debuts for the Philadelphia Freedoms on the road with a July 14 match against the New York Sportimes.  Roddick takes to the Freedoms' new court at Villanova University on July 15 when the Freedoms host the Boston Lobsters.
Maria Sharapova, who first played WTT as a 14-year-old, will play one home match on July 20 in Newport Beach when the Breakers host the Kansas City Explorers.
Former Harvard All-American James Blake returns to Boston as a member of the Boston Lobsters for one home match on July 8 and one road match against the New York Sportimes on July 7.
Team lineups will be finalized at the WTT Roster Draft on Tuesday, March 16 at 11am EST on WTT.com.  Marquee players typically play a limited schedule while roster players play the full 3-week season.